Bananas are such a staple in our day to day diets that we're likely to take them for granted. According to the USDA, Americans eat 26 pounds of bananas each year. Wow! While many of us recognize and value the goods produced from the small farms in our own community, how often do we stop to think about how such a ubiquitous food like the banana is grown?
Even though bananas may all look relatively similar, they're not all produced equally. At the Rutland Co-op we're proud to carry Equal Exchange's Fair Trade organic bananas. March is Equal Exchange Banana Month and a great time to look at what sets these bananas apart from the masses.
Thirty years ago, Equal Exchange set out to create a better trade deal for small farmers in developing countries. Through Fair Trade practices, small farmers are able to gain collective power and financial stability. Now, thanks to their efforts, 1,150 small farms in Ecuador and Peru are producing 1,000 cases of fairly traded bananas each week. The bananas are exported by farmer cooperatives, allowed to ripen, and are then transported to 350 food coops and local grocery stores across the United States.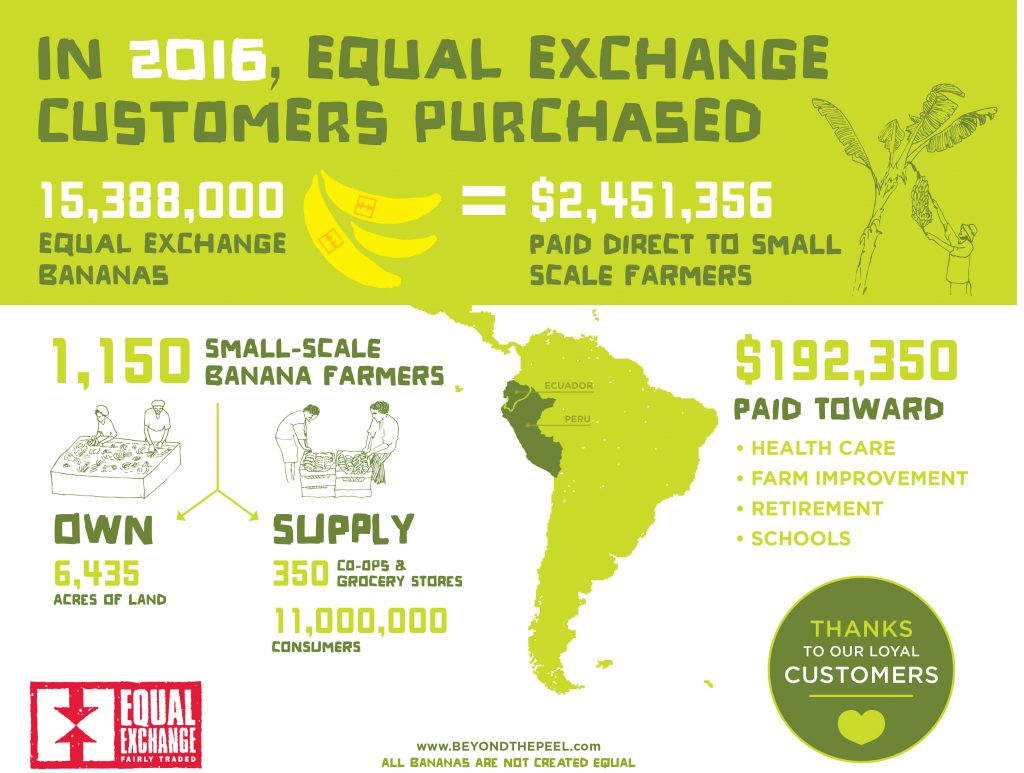 Mariana Cobos is one Ecuadorian banana farmer that struggled to run her business when traditional banana brokers didn't pay her a fair wage. Yet they were her only option until joining the El Guabo Cooperative. El Guabo is one of Equal Exchange's producer partners and today has more than 450 small scale banana farm members. Each is committed to improving their quality of life as well as that of their community. Since joining the co-op in 2008, Mariana was able to receive a fair price for her bananas and now grows more than 28 acres worth.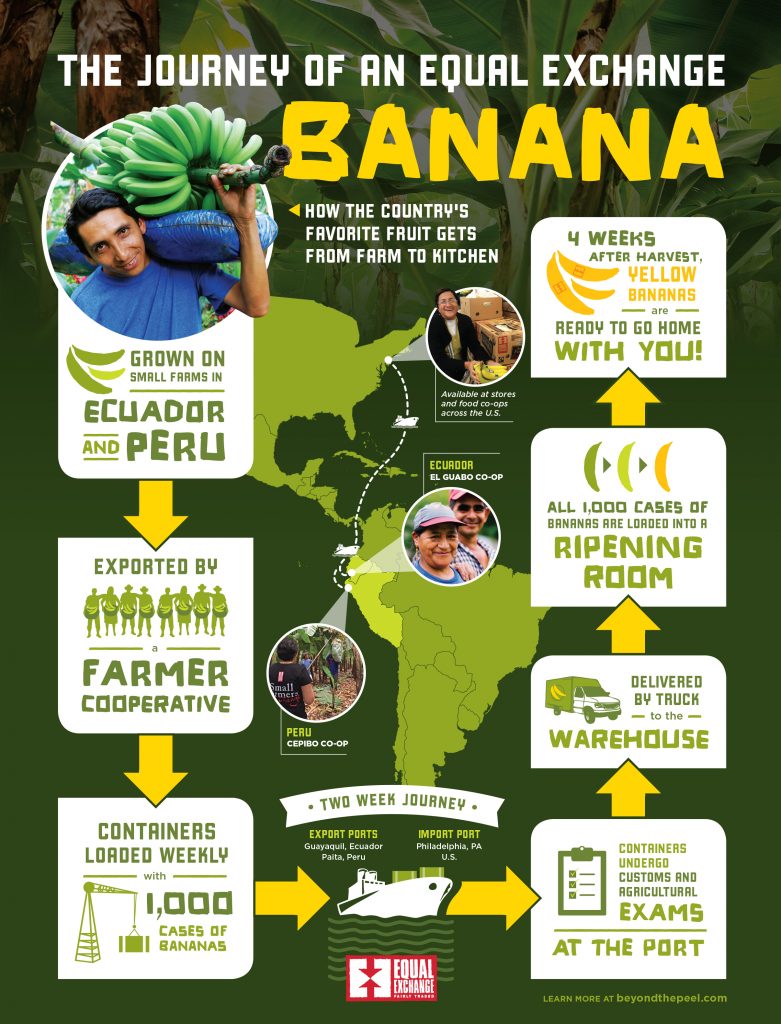 In 2016, over 15 million Equal Exchange bananas were sold, with more than two million dollars paid directly to the small farms that grew them Additional proceeds, part of a social premium, went back into the farm communities to help fund social programs such as health care, schools and infrastructure projects. Members of the farm cooperative have the ability to vote on how the Fair Trade premium is used.
Equal Exchange is radically changing the banana industry for the better and we hope you'll consider purchasing their bananas and helping to support fair trade and economic development. Although we may be thousands of miles from these banana farms, your purchase still has the power to make a difference in the lives of real people.
In celebration of Equal Exchange Banana Month we're offering bananas at 99¢ per pound all this month.
Learn more about Equal Exchange.