What's summer without eating food outside with friends? The recipe for this month is simple, delicious, and customizable. A perfect way to take advantage of summer harvest's fresh rewards. The main component of this dish is Labneh, a mediterranean soft cheese, much like ricotta, and is extremely versatile. It can be used in mezze platters like this, or can even be used in sweet dishes like olive oil cake. It binds the other elements together into a fantastic party (or really anytime) dish. Recipe adapted from The Mediterranean Dish: https://bit.ly/2J0LgjT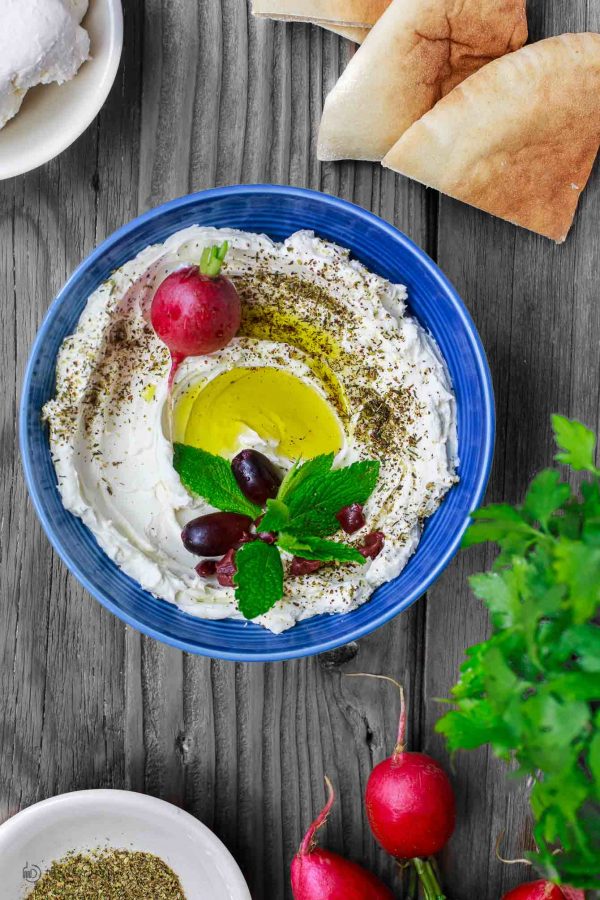 32

oz

Whole Fat cow or goat yogurt

3/4

teaspoon

salt
32

oz

Whole Fat cow or goat yogurt

3/4

teaspoon

salt
Take 32oz of whole fat goat or cow milk yogurt, (We would use Larson Farm for cow milk, and Redwood Hill Farm for goat milk), and mix with 3/4 teaspoon of salt in a large bowl.

Line a large colander or sieve with cheese cloth and place in a bowl.

Pour the yogurt and salt mixture into the cheese cloth and let sit in the fridge for 24-48 hours.

Serve with the other accoutrements above and with a good olive oil and fresh and/or dried herbs.
Things to do with Whey (adapted from Don't Waste the Crumbs https://bit.ly/2Lfhh4p)
Stick it in smoothies. Whey is naturally high in protein (almost 2g in one cup!) and it's my first choice for extra liquid when making protein smoothies.

Pet food. Instead of throwing the extra nutrients down the drain, add them to pet food for some extra vitamins.

Lower the garden's pH. Blueberries, roses and tomatoes like acidic soil and whey will help you achieve just that.

Thicken gravy. Chances are if you're making gravy, it's topping something unhealthy. Boost the nutrition by using whey.

Tenderize meat. Swap whey for any vinegar in a traditional meat marinade. Mind that whey will add tang, so adjust seasonings accordingly.

When all else fails – freeze it. If you've got too much and you're unsure what to do with it, freeze it in ice cubes for later!