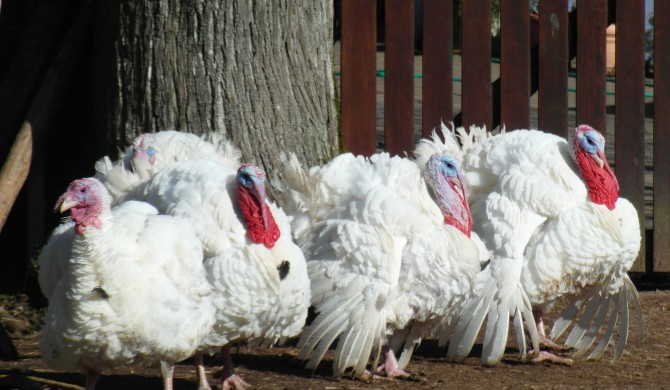 Pre-order Fresh, Local Turkeys for Thanksgiving
Last November, two Co-op staff members drove to New Haven to pick up 60+ Misty Knoll turkeys ordered by RAFC members and customers. The truck was so packed that one of the staff members shared the shotgun seat with cargo. I'm not sure if they shared a seat belt, too, but turkeys and people made it safely and a good story was born. This year we're driving a bigger truck!
Help create a good story at your Thanksgiving table by pre-ordering a fresh, delicious local turkey at a great price! The Co-op birds come from two family-owned and operated farms – Stonewood Farm in Orwell and Misty Knoll Farms in New Haven.
At both farms, birds are raised on vegetarian feed with no animal by products, antibiotics or added hormones. Turkeys are processed on-site in a USDA-licensed facility. Stonewood Farm houses turkeys in large, open-sided buildings that allow access to fresh air and sunlight.  Misty Knoll Farms allows birds free range on pasture.
To order, come on in and complete a form, give us a call or download the form below to bring with you. Deposits are required, and the deadline is November 18th.
Your turkey will be ready for pick up on Wednesday, November 24th – the day before Thanksgiving! We will be open until 7 p.m. that day, but the store will be closed on Thanksgiving.
Pre-order Prices:
Misty Knoll (Free-range)- $4.39/lb. – View and print order form
Stonewood – $3.99/lb. – View and print order form
Of course, we can help you with all the rest of your Thanksgiving feast, from bulk spices and gluten-free stuffing to fresh organic veggies and cranberries – we look forward to seeing you. We're so thankful for our members and customers!