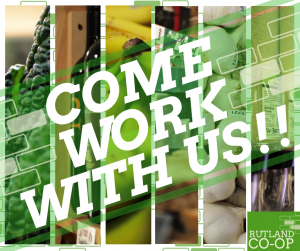 The Rutland Area Food Co-op is a great place to work! We hire hard‐working, friendly and knowledgeable people who are committed to our Co-op's mission and principles. If you provide excellent customer service, support your co­‐workers with your outstanding work ethic, and are willing to take part in our cooperative structure, we encourage you to put your energy to work for the benefit of your community by taking this first step towards joining our growing business.
The Rutland Area Food Co-op is a community owned grocery and wellness market situated in downtown Rutland, Vermont. As a food cooperative, we are owned by a membership base of around 2,000 members. We aim to provide our owners and the greater Rutland region with affordable access to high quality, local, organic and sustainable foods and goods. At the same time, as a mission driven, community oriented business, we proudly strengthen our region by carrying products of more than 180 local businesses.
WE CURRENTLY HAVE NO OPEN POSITIONS, HUZZAH!