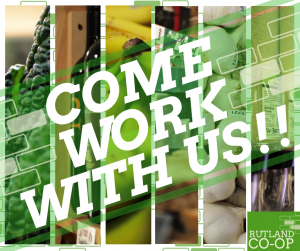 The Rutland Area Food Co-op is a great place to work! We hire hard‐working, friendly and knowledgeable people who are committed to our Co-op's mission and principles. If you provide excellent customer service, support your co­‐workers with your outstanding work ethic, and are willing to take part in our cooperative structure, we encourage you to put your energy to work for the benefit of your community by taking this first step towards joining our growing business.
The Rutland Area Food Co-op is a community owned grocery and wellness market situated in downtown Rutland, Vermont. As a food cooperative, we are owned by a membership base of around 2,000 members. We aim to provide our owners and the greater Rutland region with affordable access to high quality, local, organic and sustainable foods and goods. At the same time, as a mission driven, community oriented business, we proudly strengthen our region by carrying products of more than 180 local businesses.
OPENINGS:
FULL TIME CASHIER/FRONT END
The Rutland Co-op's front-end staff are responsible for accurately processing customer transactions, providing prompt, friendly, helpful customer service and supporting the coop in achieving its goals. He/she will work under the guidance of the front-end manager and will report to the General Manager.
Responsibilities – include, but are not necessarily limited to:
Check out customer purchases in a friendly, accurate, and timely manner using correct prices, departments and codes.
Provide excellent customer service.
Ensure maintenance, cleanliness, and organization of all work areas, storage, and equipment.
Perform other duties as assigned
Call for back up with check out as needed so that customers wait as little as possible.
Receive payment in full for purchases, carefully giving change and receipts.
Follow cash handling security procedures according to established guidelines.
Help prevent shoplifting by observing customer traffic.
Keep Front End in a clean orderly condition, organize carts and baskets. Maintain shopper and register supplies.
Preparation and stocking/maintenance of the coffee and kombucha stations.
Comply with all Co-op policies and procedures that ensure compliance with Vermont Deportment of Liquor Control guidelines and to prevent alcohol sales to minors of intoxicated customers.
Become familiar with Co-op policies and products in order to answer customer questions; refer unresolved questions or problems to appropriate staff.
Qualifications
Cash-handling experience; ability to run register with speed and accuracy
Proficient math skills.
Effective communication skills.
Highly organized with great attention to detail.
Some experience or knowledge of the cooperative business structure and values as well as local, organic, and sustainable foods.
Must be willing to work a flexible schedule including mornings, nights, weekends, and holidays.
You must be punctual, dependable, and show the ability to apply judgement, interpret and follow directions, solve problems and seek guidance when appropriate.
Environmental Conditions
Works in a fast-paced environment with a focus on customer service
May work in environments of extreme cold and extreme heat for short periods of time
Physical Demands
Must be able to lift up to 50 pounds
Must be able to bend, reach, stoop, kneel and squat
Must be able to push, pull, and maneuver heavy loads
Ability to stand for long periods
Compensation and benefits to be further discussed upon interview. Please send your completed application (available on our website) and resume via email or drop off in store.
Job Type: Full-time
Salary: $11.00 /hour