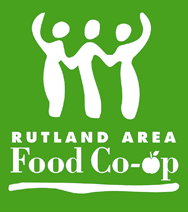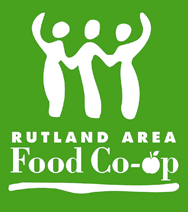 Rutland Area Food Co-op is Committed to Our Community
Join in the National Celebration of Co-op Month this October
---
This October, the Rutland Area Food Co-op is joining over 30,000 co-ops and credit unions across the United States in celebrating Co-op Month, observed nationally since 1964. This year, the National Cooperative Business Association CLUSA International has chosen "Co-operatives Commit" as the theme for the month, highlighting the many ways that co-ops are committed to their communities.
Locally, the Rutland Area Food Co-op employs 19 individuals, 13 full-time and 6 part-time. In 2016 we paid $410,364.00 in wages and $6,980.35 in benefits. 35% of our spending in 2016 was made to local business, which totalled to be $484,195.00. We believe in giving back to organizations and events that align with our mission and in 2016, $4,130.00 was donated. This month, to spread our commitments, we are giving away a selection of local, fair trade, and sustainable products. Along with this, tasting events throughout the month will be held to build the awareness of some of our fair trade and local food products. Information on the giveaway and events can be found on Facebook.
"When you shop at your local food co-op, you're getting more than good food for you and your family," said Erbin Crowell, Executive Director of the Neighboring Food Co-op Association (NFCA). "You are also joining with other people in the community to build local ownership, provide good jobs, support sustainability, and build stronger, more vibrant communities."
For example, the NFCA includes more than 35 food co-ops and start-ups, locally owned by more than 130,000 people. Together, these co-ops employ over 2,000 people, generate revenues of more than $315 million, and purchase more than $60 million from local producers each year. In addition, a recent survey found that member co-ops demonstrate their commitment to their communities in a wide variety of ways including programs supporting local producers, food security, sustainability, education for young people, and collaboration with local community organizations.
From food co-ops to farmer co-ops, worker co-ops to credit unions, and housing co-ops to energy co-ops, co-operatives operate across our communities and the economy. Co-ops are also more common than you might think: Here in the United States, 1 in 3 people are members of at least one co-op or credit union. Nationwide, co-operatives create 2.1 million jobs and generate more than $650 billion in sales and other revenue annually. Because they are member-owned, co-ops enable people from all walks of life to work together to build a better world.
You may be surprised by how many cooperative made products we sell, including dairy products from Cabot Creamery Co-op and Organic Valley, fairly traded coffee, tea and chocolate from Equal Exchange, naturally fermented vegetables from Real Pickles, Northeast Grown frozen fruits and vegetables from your Neighboring Food Co-ops — and many others.
For more examples of how co-ops are committed to their communities, please visit www.nfca.coop.
---
About the Rutland Area Food Co-op
The Rutland Area Food Co-op is a member-owned community market. We prioritize local, whole, certified organic foods and healthy products for the home, body and earth. Since the Co-op was opened in 1995, we have upheld the same cooperative principles:voluntary and open membership, democratic, member control, member economic participation, autonomy and independence, education, training and information, cooperation among co-ops, and concern for community.