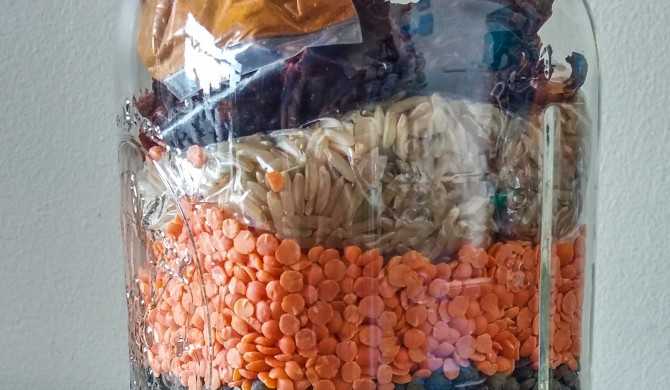 Make Your Own Gift in a Jar – Saturday, December 12, 11a.m. – 2p.m.
Bring your own pint and quart canning jars to the Co-op, where you'll find guidance and recipes for making gifts for your friends and loved ones using products from the bulk department. Layers of colorful bulk ingredients are so appealing that all you need is simple ribbon and a recipe card to complete a festive gift presentation.
Bulk ingredients are very affordable, too: You can give someone the makings for six to eight servings of organic soup (like the Curried Lentil Soup pictured here) for about $9, or a mix for 3 dozen cookies, made with organic, fair-trade and local ingredients, for about $6! And because you made your purchase at the Co-op, your money circulates within the community and to companies that share your values in supporting a healthy, just world for all. In short, your gift keeps on giving.
We'll have some sample jars and recipes on hand, and encourage you to bring your own. Friendly and knowledgeable Co-op staff and volunteers will be there to help you navigate the wide array of ingredients available in the bulk section - below you'll find a list of ingredients for creating delicious gift jars. We look forward to your visit to the wonderland of bulk!
Options for filling your gift jars:
Soup mixes
Beans, Split Peas, Lentils
Rice & Grains
Chiles (four kinds)
Dried tomatoes
Mushrooms (four kinds)
Seaweed (four kinds)
Broth powders (veggie broth, salted and no salt added)
Onion – granules, flakes, and powder
Garlic – granules, pepper, and powder
Spices, herbs & salts
Cookie, cakes, or breads
Flours
Sugars
Cocoa powder
Vanilla bean powder
Spices
Yeast
Nuts & seeds
Candies
Chocolate chips & chunks
Dried fruits
Teas
Dried herbs
Black & green teas