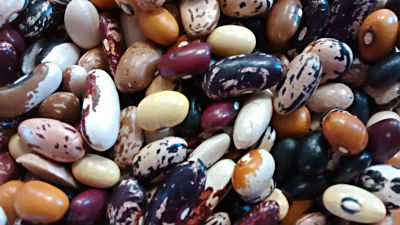 Why Beans? An Interview with Ryan Yoder
On one of the only cold days so far this winter, I sat down with Ryan Yoder of Yoder Farm in Danby, VT to learn more about the farm's wide selection of beans, a few of which you'll find in the Co-op's bulk department.
In 2015 Ryan and his wife Rachel planted 20 different dry bean varieties. They offer eight of these for sale, and the rest make up the alluring and colorful assortment that is Yoder Farms soup bean mix. They started growing beans when they recognized that there were no other area farms filling this niche. At first their farmers' market customers were wary of trying them because of their experiences with the beans they bought from supermarket shelves, which usually take a long time to cook – a sign that they're not fresh. (Ryan muses that maybe this was a marketing ploy created by the purveyors of canned beans.) Ryan and Rachel have educated many people at their farmers' market booth about the difference. For myself, I've found that boiling up pot of local dried beans takes about half as much time as most cookbooks suggest. And even more important, they taste better! You'll find cooking instructions here: Cooking Dried Beans
I asked Ryan if he has favorites, and he mentioned Marfax, a medium-sized butterscotch hued bean offered here at the Co-op. He characterizes Marfax as a "buttery, side-dish bean; great cooked until just tender and dressed with a little lemon or oil, sautéed with garlic and cumin, or made into dip, like hummus. They're good in a burrito, too."
In delving what led Ryan to farming, I discovered that it wasn't a passion for beans. The choice was influenced by all his life experiences: as a child of a family splitting its time between Nepal and the U.S., education in environmental science and philosophy, and seeing the effects of industrialization and climate change abroad and at home. "Farming, specifically perennial crop farming, is a practical response to ensuring survival," he says. "It's going to take normal people putting their money where their mouths are, changing their behavior and living simply," and setting the example for others. "We can't afford to wait for a government mandate." The role that beans play in this survival scenario is important, he says, because we need an inexpensive, local and reliable source of protein that anyone can grow.
Ryan serves up these convictions along with fresh produce and beans at his farmers' market booth. He hopes to open eyes and minds about the responsibility – and power – we each have to make a difference. Next time you buy Yoder Farm beans at the Co-op, you might remember these words form Ryan: "Beyond the product, there's a message."
The Co-op also stocks Yoder Farm's popcorn, bulk and bottled apple cider vinegar, applesauce, and fresh strawberries berries in season.