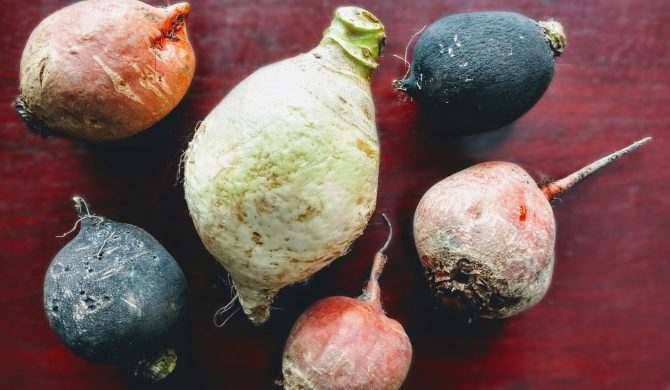 Four Unusual Roots You'll Love This Winter
We associate winter with a lack of fresh produce. But even in Vermont we know that's just not the case. For ages, root vegetables have helped carry us through the cold. They store well, are full of useful nutrients we need right about now and they offer an earthy taste of the farm. We love that even when there's snow on the ground our local farms can continue providing us fresh produce.
These are a few of our favorites. Although they may be new and different than what you're used to, they're worth a try!
Celeriac/Celery Root
Whether you call it celeriac or celery root, they're one in the same. Celeriac is a variety of celery that is grown especially for its roots. Don't let its appearance fool you, however. Inside, this root vegetable has a crisp, cream colored flesh that easily slices and grates. Just slice off the skin with a knife.
Taste: Celeriac tastes just like celery but with a more earthy and intense flavor.
How to use: 
Add to soups and stews wherever you'd like the flavor of celery
Chop, boil and mash with potatoes
Check out our recipe for Celery Root Hash Browns
Pairs well with: root vegetables, apples, rosemary, honey, seafood and earthy cheeses
Golden Beets
Golden beets are another deceptive root vegetable. They look unique but are not all that different from an ordinary beet. Plus, these golden beets won't stain your hands or cutting board!
Taste: These beets are more mild than others. They're earthy, nutty and just a little bit sweet.
How to use:
Peel, chop and roast until soft
Peel and grate raw into salads
Make a salad of roasted beets, toasted nuts, young greens and crumbled cheese
Pairs well with: Soft cheeses, nuts, bitter greens, balsamic or apple cider vinegar
Gilfeather Turnips
The Gilfeather is a cross between a rutabaga and a turnip. It also happens to be Vermont's very own state vegetable! The Gilfeather was developed by farmer John Gilfeather in the late 1800s on his farm here in Vermont.
Taste: Gilfeathers taste like a mix of turnips and rutabagas – a little sweet and a little earthy.
How to use:
Any way you already enjoy rutabagas and turnips
Peel, boil and mash. See our recipe for Mashed Gilfeather w/ Orange & Thyme
Roast. See our recipe for Roasted & Spiced Gilfeather Turnips
Pairs well with: garlic, maple syrup, butter, milk, Parmesan, apples, nutmeg, cinnamon
Black Radishes
Black radishes are known as the winter radish. They have a rough black skin and creamy white flesh. High in Vitamin C, black radishes make them an especially good vegetable for the winter months.
Taste: These radishes are spicier than others and some people say they're more like horseradish. You can tame some of the bite by cooking them in butter.
How to use:
Thinly slice and roast until crisp for beet chips
Roast, peel and mash with butter
Peel, grate and use as a seasoning for some added spice
Pairs well with: fresh herbs, butter, grated cheese
beets
black radishes
celeriac
celery
celery root
gilfeather
golden beets
radishes
rutabaga
turnips