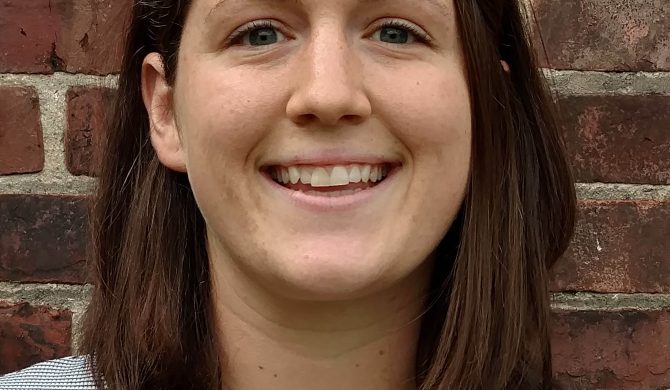 Throwing Herself Into the Co-op

Meet Molly Hornbeck, one of our newest staff members and our Cooler and Freezer Manager. 
Tell us about yourself
I grew up in Whiting, maybe about as small town Vermont as it gets. I graduated from Castleton University in 2014 with a degree in Fine Art and am currently a resident of Shrewsbury. I have a deep passion for creating, whether it's with my paint brush or in the kitchen, I have always loved to make things and Vermont is a wonderful place for that.
Growing up in Vermont sparked a deep love for being outside, being active and really embracing my surroundings. I can most often be found on a mountain bike, or hiking up a trail (in boots or on ski's) and in all my glory: riding back down. You have to make the most of those snowy winters, and there's no better way than to throw yourself into the mountains and climb your way to the top.
That actually became an analogy for my life. When I was ten years old I was diagnosed with Type One diabetes. It's been a long road of literally that – throwing myself in and climbing to the top. It wasn't until I was in my 20s that I realized it was really time to start learning about the disease for myself. I learned very quickly that eating raw, nutrient dense foods that actually fueled my body made significant differences in not only my blood sugars, but how I felt. It was a real game changer the day that I realized maybe it was more about prevention than it was about treatment. I began seeking places I could find locally sourced foods, and into the Co-op I went.
What attracted you to the Rutland Co-op?
I fell for the Co-op hard and fast. When I first came in I was ecstatic to see a variety of different foods that I hadn't seen in larger grocery stores. Granted, I was a little out of my element, having never really been exposed to things like the bulk section or taking my groceries home in a recycled box instead of a bag. I was happy to see many options that were made in small batches by actual people. There were real foods with real ingredients. It was also comforting to see products from local farms and families I had known of my entire life. It really turned grocery shopping into a new experience. It became exciting and interesting. Not only were the products great but I could feel the positive energy radiating from the staff that worked there. They were happy doing their jobs and I was a loyal customer for a long time before I began working here, and I continue to be to this day.
Why do you think Co-ops are important in comparison to chain stores or shopping online?
You really do get a sense of community when you come to the Co-op. I don't think you can find that in larger chain stores. You become familiar with us and we become familiar with you. We seek to help you, and you seek to help us. It's a beautiful cycle of reciprocity here at the Co-op, and that feels good.
What's one aspect of the Rutland Co-op would you like people to know more about?
Since I've started working here I have noticed a lot of progressive steps being taken. Take for example the newly re-done kitchen. The Co-op is constantly trying to move forward and improve to better suite the needs of our community.
What are your favorite items at the Co-op?
I personally am a fan of the number of kombucha varieties we offer. My favorite is the GT's Trilogy, because it's naturally sweetened with both raspberry and lemon. I can also be found treating myself to some dehydrated mango from the bulk section (helpful when the blood sugar goes a little too low)!
The Rutland Co-op has been a significant building block in the foundation of my health and wellness journey. It's the place that I can find foods and products that fuel my body and have a positive impact on my overall health. It seems like fate that I have found myself as part of this team.