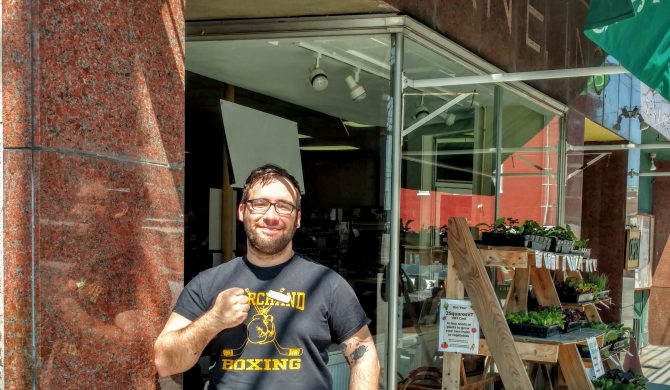 By Nick Grandchamp
Some see Rutland as a Vermont underdog. But for many, like myself, it's something much more.
At the Co-op, I'm the bulk department assistant and you'll often find me happily helping customers at the register. But I'm also a local rock musician with thirteen years experience performing both locally and nationally. When I'm not at the Co-op, I'm most often at a show with my band. Though we're not just another band. We take pride in providing entertainment for the community in safe, drug and alcohol free environments.
I believe that in order to really feel a town's soul and spirit you must start at the heart. That heart can be found here at the Rutland Area Food Co-op, located in the center of the city. We are much more than just a store in many ways, we are Rutland's independent market that welcomes all. I think there's the idea out there that you have to have a ton of money to shop at a co-op or that we aren't here for everyone, and that's just not the case. Our customers span all income levels and ages. I see it everyday.
At the Co-op I not only see the many faces of our community, but also the lifeblood of an idea that grew from a grassroots effort more than twenty years ago. We continue to focus on our people and community, not a corporate hierarchy. I know customers on a first name basis. I know about their lives and they know about mine. It's about making connections as people and why we're a place to see your neighbors and friends. By taking product requests, filling special orders and listening to customers' needs, I think we surpass any services a typical supermarket can offer.
Here in Rutland you can really be someone. You can really make a positive impact on this community. While I work at the Co-op, my wife works at the homeless prevention center here in town. We bought a house here in Rutland five months ago and are pumped to be new homeowners. Most importantly, we're proud to be members of this community and help make Rutland a better place.
The Rutland Co-op is a perfect starting ground for not just becoming an active member of the community but also as an outlet for building a healthier life for yourself.
Rutland is something more.
You are something more.
We are something more.