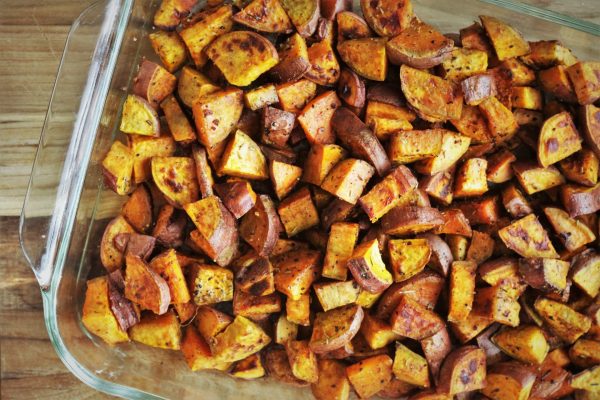 3

lbs

sweet potatoes

1

tbsp

minced rosemary

fresh

4

tbsp

olive oil

2

tsp

smoked paprika

1 1/2

tsp

kosher salt

2

large onions

6

fried eggs

optional
3

lbs

sweet potatoes

1

tbsp

minced rosemary

fresh

4

tbsp

olive oil

2

tsp

smoked paprika

1 1/2

tsp

kosher salt

2

large onions

6

fried eggs

optional
Preheat the oven to 450F degrees and line two baking sheets with parchment paper or baking mats.

Slice then dice the potatoes into 1/2 inch pieces. In a bowl, toss the rosemary, 2 tbsp olive oil, paprika and 1 tsp salt with the potatoes. Spread onto the baking sheets in a single layer. Bake for 30-35 minutes until lightly browned and tender.

While the potatoes roast, slice the onions. Heat a heavy bottomed pan over medium heat with the remaining olive oil. Add the onions, season with remaining salt and reduce the heat to medium-low. Cook, stirring occasionally, for 20 - 25 minutes until lightly browned and caramelized.

When both the potatoes and onions are ready, toss together until combined. Want to make it a meal? Top with the fried eggs and serve.