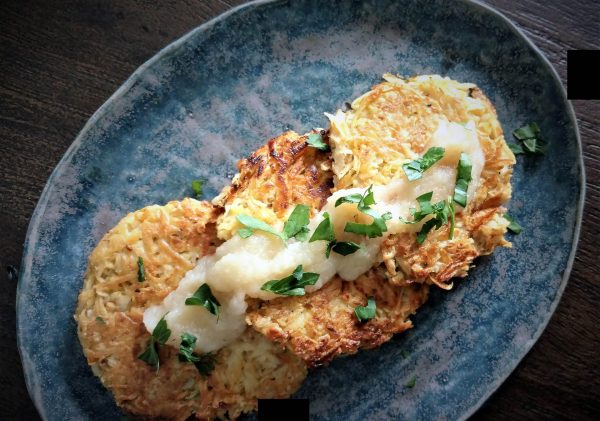 1

medium

celery root

1 1/2

tsp

dried tarragon

1

egg

2

tbsp

flour

1/4

tsp

salt

freshly ground black pepper

to taste

2

tbsp

olive oil

more as needed

apple sauce

for serving
1

medium

celery root

1 1/2

tsp

dried tarragon

1

egg

2

tbsp

flour

1/4

tsp

salt

freshly ground black pepper

to taste

2

tbsp

olive oil

more as needed

apple sauce

for serving
Use a sharp knife to trim the skin off the celery root. A knife works better than a peeler. Don't worry if you trim off some of the flesh.

Grate the root with a handheld grater or your food processor. You should have about 2 cups afterward.

In a bowl, stir the grated celery root with the tarragon, egg, flour, salt and pepper.

Heat a skillet over medium high heat. While the pan heats, shape the batter into four portions, flattening and shaping with your hands.

Place the hash browns into the pan all at once or in batches, depending on the size of your pan. Cook until browned, about 4 minutes, before flipping and cooking the second side, about another 4 minutes. It's better to cook these gently over a lower heat or you can risk browning the outside before the inside is cooked.

Serve warm, topped with applesauce, yogurt, ketchup or other condiment.
celeriac
celery root
hash browns