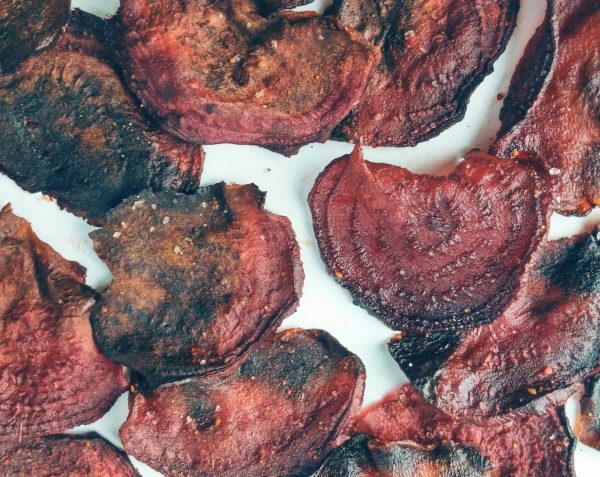 4

medium

beets

1

tbsp

sunflower, grapeseed, peanut or other high heat oil

1

tsp

cumin

1

tsp

cinnamon

1/2

tsp

sea salt
4

medium

beets

1

tbsp

sunflower, grapeseed, peanut or other high heat oil

1

tsp

cumin

1

tsp

cinnamon

1/2

tsp

sea salt
Preheat the oven to 375°F. Either wash and scrub the beets or use a peeler to remove the skin, if you prefer.

Using a mandolin or food processor, slice the beets as thinly as possible. The slices should be so thin that the edges of the slices should curl. If not thin enough, they chips won't crisp.

In a bowl, combine the oil, spices and salt. Toss in the beets to evenly coat. Arrange the slices on baking sheets in a single layer. Bake for 15 minutes, then check for crispness. Continue baking, checking every couple of minutes, until done to your liking. Add more seasoning, if needed.