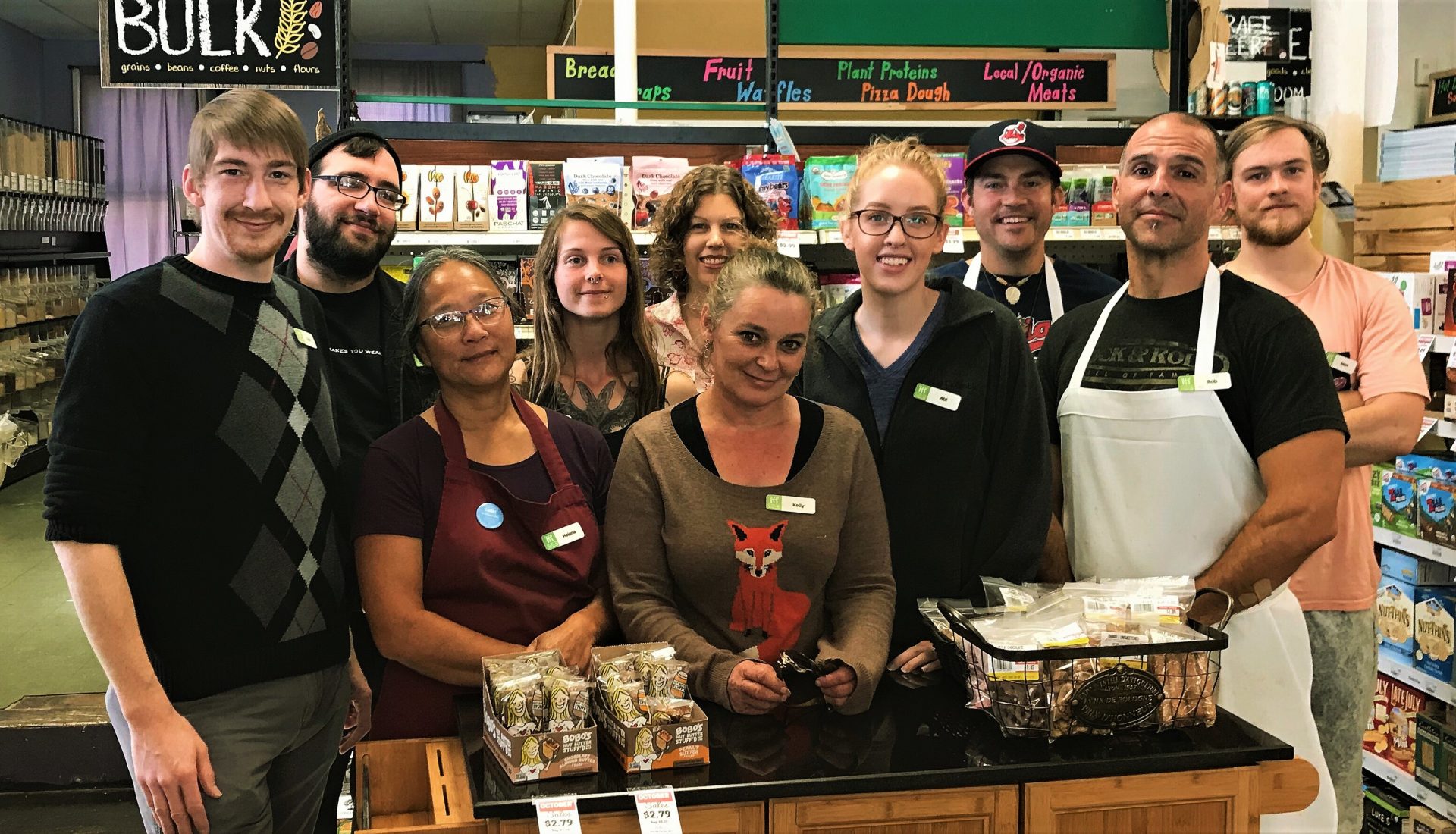 The Rutland Area Food Co-op is a great place to work! We hire hard‐working, friendly and knowledgeable people who are committed to our Co-op's mission and principles. If you provide excellent customer service, support your co­‐workers with your outstanding work ethic, and are willing to take part in our cooperative structure, we encourage you to put your energy to work for the benefit of your community by taking this first step towards joining our growing business.
CURRENT JOB OPENINGS:
Marketing Manager
Full Time: 38-40 hours/week
Compensation: $12-$14/hour
The Rutland Area Food Co-op is a community owned grocery and wellness market situated in downtown Rutland, Vermont. As a food cooperative, we are owned by a membership base of more than 2,000 members. We aim to provide our members and the greater Rutland region with affordable access to high quality, local, organic and sustainable foods and goods. At the same time, as a mission driven, community oriented business, we proudly strengthen our region by carrying products of more than 180 local businesses.
The Rutland Co-op's Marketing Manager is responsible for helping our twenty-two-year-old business, with annual sales of more than two million, continue to grow and flourish. The Marketing Manager is responsible for developing and implementing all marketing plans and initiatives, while always operating with the goals of:
Increasing sales
Increasing the membership base
Attracting new customers
Retaining current customers
Communicating the mission of the Co-op
The Marketing Manager collaborates with other Co-op staff and management, board members, Co-op members, and the community to achieve these goals, often with a great deal of creativity and resourcefulness. He/she reports directly to the General Manager.
Responsibilities
Implement and oversee the monthly sales promotions, including: the design of store signage and sales flyers, store displays, print and digital advertisements, giveaways and social media
Manage and update the Co-op's website, as well as post blog updates and recipes to keep the website current, fresh and serving as a resource to members and customers.
Oversee the Co-op's social media channels (currently Facebook and Instagram) to consistently and effectively communicate happenings, promotions, products, etc. of the Co-op. This includes implementing paid advertisements, tracking analytics and growing our digital reach and following.
Create and organize advertisements on a weekly, quarterly and annual basis for various outlets.
Collaborate with Co-op department staff to help find ways in which to effectively display and promote products.
Communicate with local vendors and department manager to create opportunities for store tastings/demos/promotions and increase product sales.
Work within the confines of a limited marketing budget to achieve results.
Actively partake in management conversations and staff meetings that help shape the business.
Serve as the voice of the Co-op, both in advertisements, outreach and local media.
Qualifications
You have proven experience and ability with graphic design. Experience with the Adobe Creative Suite is great, but we currently subscribe to Canva for our design work.
You must be an effective communicator in writing, speaking and design.
You must possess the ability to think creatively and inspire creativity among staff.
You must have a high level of organization to keep on top of multiple projects and deadlines.
You have experience or knowledge of local, organic and sustainable foods.
You are a self-motivated, independent worker who can take ideas and run with them without needing constant guidance. At the same time, you also work well with various personalities to accomplish common goals.
At least one year of marketing or merchandising in a retail food store.
Must be willing to work a flexible schedule including nights and weekends
Environmental Conditions
Works in a fast-paced environment with a focus on customer service
May work in environments of extreme cold and extreme heat for short periods of time
May travel periodically for meetings
 Physical Demands
Must be able to lift up to 50 pounds
Must be able to bend, reach, stoop, kneel and squat
Must be able to push, pull, and maneuver heavy loads
Compensation and benefits to be further discussed upon interview. Please send your completed application (available on our website) and resume via email to management@rutlandcoop.com or drop off in store.