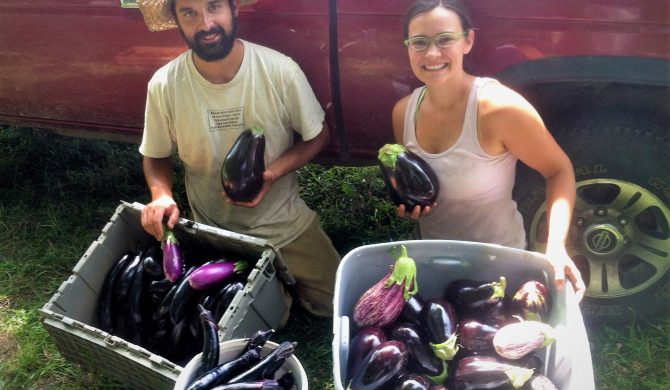 Alchemy Gardens Feeds Neighbors & Helps the Community Thrive
Welcome to our Featured Farm series – a semi-regular Q&A with the local farms supplying fresh food to the co-op and our community.
Q: When was your farm established?
A: After falling in love with gardening in our community garden plot in Montpelier, we decided to return to Scott's hometown of Rutland in 2009 to try farming. We apprenticed at Foggy Meadow Farm that year until the fall, when we started managing the Shrewsbury Co-op at Pierce's Store.
We had a large personal garden in mind for the following year, but when Greg Cox of Boardman Hill Farm in West Rutland suggested that we "just take an acre," we started thinking about going to market. We decided on a half acre for that first season in 2010. With an unconventional free lease agreement, we were able to use Boardman Hill's equipment, refrigeration, and processing areas. The generosity of Greg and his wife Gay allowed us to really "go for it" without much risk.
We farmed at Boardman Hill for our first five seasons and transitioned onto new leased farmland near our home in Shrewsbury in 2015. Over the years, we've steadily increased our sales at the Rutland Co-op, offering many veggies and being the sole provider of plants in the spring.
Q: What are the core values that guide your farm?
A: We focus on soil health and growing the most nutrient dense crops possible. We grow organically, and ensure that important trace minerals and nutrients are in our veggies through soil amendments, foliar sprays, and cover cropping.
Education is a critical part of our farm. We partner with the Shrewsbury Institute for Agricultural Education (SAGE) to host workshops and field trips, train apprentices, and partner with school groups like Rutland High School Y.E.S. Plan and Stafford Culinary Arts students. We provide recipes for our CSA members and market customers, and generally just want to help people get into growing and eating fresh food.
We believe that good food should be accessible to all and we work with folks to join our CSA program regardless of income. This means we barter, set up payment plans, and are part of NOFA-VT's Farm Share program which subsidizes CSA shares.
Q: What are your favorite crops to grow and/or eat?
A: We have so many favorite crops! We love to grow (and eat!) lots of varieties of tomatoes. Some of our other favorites are gilfeather turnips which are so sweet and delicious in the winter and butterhead lettuce, our favorite summer green. We also love growing starter plants for home gardeners. We put a lot of love into the baby plants so that they will be productive and healthy for folks all season long.
Q: Why is selling locally important to you?
A: We are a small farm and purposely want to keep our customer base as local as possible. We have no desire to ship our veggies to Boston or New York because Rutland is our home and we want our neighbors to be well-fed and nourished. As people eat fresh food, their health is restored and communities thrive. We want this for Rutland and the surrounding towns.
We are very grateful for the dedicated customers of the Rutland Co-op, and the Co-op's wonderful staff members who make the Co-op a welcoming place. It has been awesome to see the changes over the years, the new faces, and to always feel happy when we visit.
Alchemy Gardens is located in Shrewsbury, VT and is owned by Scott and Lindsay Courcelle. You can also find Alchemy Gardens on Facebook and at www.alchemygardensvt.com.